As an organization the National Association of European Trainers of Moldova (ANTEM) was registered in 2008. Since then ANTEM has become the leading provider of adult language teaching services throughout the country and a sound promoter of bilingual education for children.
ANTEM's mission is facilitation of civil, socio-cultural and professional integration, promotion of inter-ethnic tolerance through training and creation of favourable linguistic environment.
ANTEM is an association specialized in provision of language training services to representatives of national minorities (adult speakers of other languages) and foreign citizens. The key strategic directions of ANTEM are to promote the standards of State language command and use, according to the European norms and to share the positive experience of linguistic integration of national minorities.  As well one of the main objectives of the organization is to become an implementing partner for an eventual state policy of promotion of the use of the state and minority language.
Geographical area of ANTEM's activity includes 30 rural and urban settlements: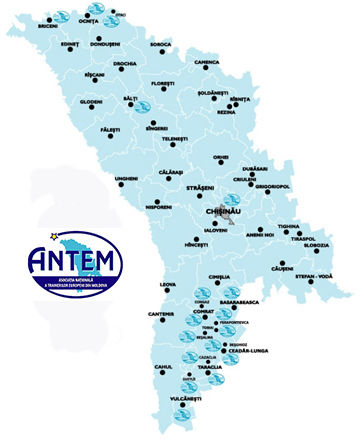 ANTEM fields of interest:
Intercultural dialogue;
Rights of national minorities;
Social-cultural and professional integration of national minorities;
Developing the teaching and learning methodology of the language.
ANTEM main activities:
Romanian language courses for national minorities;
Romanian language courses for foreigners;
Trainings of trainers;
Elaboration of didactic materials;
Methodological and practical conferences;
Linguistic and cultural immersions;
Information campaigns;
Volunteer Activity;
Network Expansion
From creation of ANTEM until now there are 5000 adults who benefited of the multi-year project Language Training for Civil Servants in Minority-Populated Areas of Moldova, 1800 young people who enjoyed Romanian distance learning as well as 471 children and 399 parents who have benefited of the bilingual education program.
ANTEM experts have elaborated more than 70 didactic materials (manuals, curricula, guides etc.) for language education for national minorities and foreigners. 
The organisation's team includes 105 local teachers from the Central, Northern and Southern part of Moldova, the Autonomous Region of Gagauzia, Transnistrean region.
ANTEM partners:
Agency of Interethnic Relations of the Republic of Moldova;
Ministry of Education of the Republic of Moldova;
"Ion Creangă" Pedagogical University;
Bureau of Migration and Asylum of the Republic of Moldova;
Ministry of Labour, Social Protection and Family of the Republic of Moldova;
Local public authorities of the Republic of Moldova representing the regions where ANTEM carried out training programmes;
Gagauz Education Department;
Bashkanat of Gagauzia
Portfolio of ANTEM projects:
No.
Project Title
Donor
Implementation period
1.
Developing Training Competency for an Efficient Intercultural Communication
UE, Institute for Democracy
July – November2018
2.
Opportunities of Non-formal Education for Youth by Distance Learning (http://invat.antem.org/)
Ministry of Education of Moldova
March 2018 – December 2018
3.
Integration with Respect for Diversity – Simultaneous Learning of Romanian and Gagauz in the Autonomous Region of Gagauzia
Swiss Agency for Development and Cooperation (SDC)
December  2017 – August 2018
4.
Diversifying the Access to Education for Youth by Distance Learning
Ministry of Youth and Sport of the Republic of Moldova
March 2017 – December 2017
5.
Elaboration of Didactic Materials for Refugees from the Republic of Moldova
UNHCR
April – December 2016
6.
Romanian Distance Learning as an Opportunity for Socio-Professional Integration of Youth from the Republic of Moldova
Ministry of Youth and Sport of the Republic of Moldova
April 2016 – December 2016
7.
Integration with Respect for Diversity – Bilingual Language Courses in the Autonomous Region of Gagauzia
OSCE HCNM
May 2015 – April 2017
8.
Socio-linguistic and Professional Integration of Youth from the Republic of Moldova by Distance Learning
Ministry of Youth and Sport of the Republic of Moldova
June 2015- December 2015
9.
Language Training for Social Assistants in the Republic of Moldova
Austrian Development Agency
April 2014 – October 2014
10.
Social and Professional Integration of Youth by Distance Learning
Ministry of Youth and Sport of the Republic of Moldova
May 2014-December 2014
11.
Language Training for Civil Servants in Minority-Populated Areas of Moldova
OSCE HCNM
October 2013-August 2016
12.
E-learning as a Means of Social Integration for Youth
Ministry of Youth and Sport of the Republic of Moldova
April-December 2013
13.
Language Training for Civil Servants in Minority-Populated Areas of Moldova
OSCE HCNM
September 2012 – August 2013
14.
Social Integration of Youth by Distance Learning (http://invat.antem.org/
Ministry of Youth and Sport of the Republic of Moldova
July 2012-December 2012
15.
Romanian Language Courses for Adults Speaking Other Languages. League of people living with HIV/AIDS
Soros Moldova
December 2010-

February 2011

16.
Language Training for Civil Servants in Minority-Populated Areas of Moldova
OSCE HCNM
September 2010 – June 2012
17
Language Training for Civil Servants in Minority-Populated Areas of Moldova
OSCE HCNM
July 2009–September 2010
18.
Language Training for Civil Servants in Minority-Populated Areas of Moldova
OSCE HCNM
April 2008–May 2009